Local First

Welcome to Orange County's Local First initiative!
What is Local First?
Collaboration with established, trusted organizations in Orange, Texas to ensure local sourcing remains a priority.
Free, public job and supplier fairs with representation from companies associated with the project.
Pre-qualification and online application assistance for local small businesses, as well as resource referrals to those who do not meet qualification standards.
Assistance for job seekers who need resume screening, online application help, and referral to local education institutions if additional training or certification is needed. Visit Workforce Solutions Southeast Texas' Local First website for more information.
Local First's vendor and supplier portion of the program was established in March 2023 with a $200,000 donation to Orange County from Golden Triangle Polymers Company LLC, a joint venture between Chevron Phillips Chemical LLC and an indirect subsidiary of QatarEnergy.
Interested in becoming a vendor or supplier for Golden Triangle Polymers project? Click here for the application.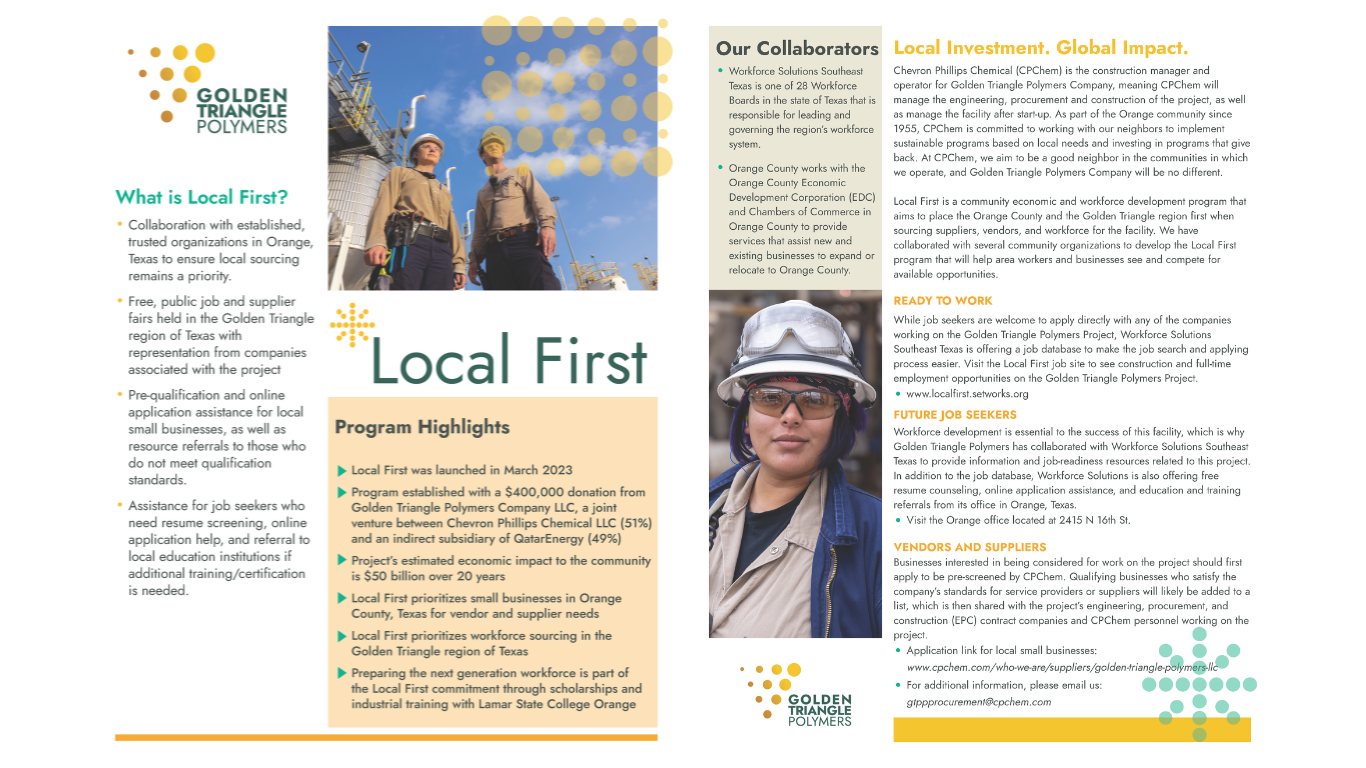 Contact Information
Public Information Office
Mondays: 8 a.m. – 5 p.m.
Tuesdays: 10 a.m. – 7 p.m.
Wednesdays: 8 a.m. – 5 p.m.
Thursdays: 10 a.m. – 7 p.m.
For more Information or to schedule an appointment, Contact Kristie Young, Local First Manager:
(409) 920-4052
(409) 273-3773
Project Resources
Connect on Facebook Connect on Linkedin
Golden Triangle Polymers, LLC Primary Contractors Find Housing FAQs News