Jefferson Gulf Coast Energy Partners Commits to Invest $150M in Orange County Terminal
February 28, 2018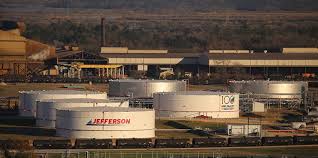 Orange County, Texas – Jefferson Energy Terminal was founded in 2012 to meet the needs of the Gulf Coast Refining market. The vision was to connect the abundant North American crude production to the U.S. Gulf Coast and beyond. The Jefferson Energy terminal became operational in the Fall of 2013. The terminal provides customers with a multi-modal facility connecting rail, marine, truck, and pipeline, loading and unloading capability of ethanol, fuels, and crude oil, and over two million barrels of storage capacity with full buildout potential of 18 million barrels. Jefferson Energy and affiliates have invested over $350 million dollars in the facility since 2012.
"Orange County is excited to partner with Jefferson Energy once again. Since breaking ground in 2012, Jefferson Energy has contributed millions to the Orange County economy. This is a sizeable investment which I believe will be a substantial and long-term asset to Orange County," comments Jessica Hill, Executive Director of the Orange County Economic Development Corporation.
The parties have agreed to a 10 year, 100% property tax abatement on the improvement value on the investment, along with a payment in lieu of taxes to Orange County. Orange County. Jefferson is still seeking abatement from other taxing entities, while Vidor ISD and other taxing entities will continue to receive property tax payments for the existing investment along with inventory tax.
"Jefferson Energy continues to invest in our community. We are thankful for the partnership and look forward to future opportunities to grow Orange County." comments Jessica Hill.