Five years after hospital closure, Orange to get new medical facility
January 28, 2022
The Examiner - Tim Cohrs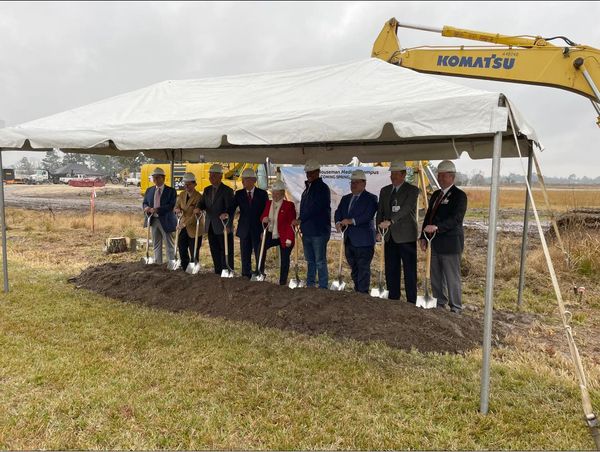 CHRISTUS Southeast Texas and NexCore Group, a medical facility development company, held a groundbreaking ceremony for the construction of Phase 1 of the Gisela Houseman Medical Campus (GHMC) in Orange on Jan. 24. Community stakeholders, elected officials and local physicians were on hand to celebrate the facility that has been a long time in the making.
"We're ecstatic that this day has finally come after a couple years of planning with the community, NexCore and the local physicians," CHRISTUS Southeast Texas Healthcare System President and CEO Paul Trevino said.
Phase 1 will consist of an emergency room and other outpatient services. Medical offices will house the rest of the building, including those for independent physicians such as Dr. Marty Rutledge of Orange Medical Surgical Associates.
"First and foremost, we (CHRISTUS Southeast Texas) are providing emergency services with expedited transfers into Beaumont as needed for a higher level of care," Trevino said. "We'll have imaging services, laboratory services and a women's health center. Additionally, there'll be a medical office building where some of the preeminent physicians in the area will be having an office."
Orange Mayor Larry Spears Jr. spoke at the event about how the community has been asking for a solution regarding receiving medical care in their area, a quality of life barrier that has necessitated out-of-county travel for even the most dire situations. Ever since the closure of Baptist Hospital's Orange campus on Jan. 12, 2017, the, Orange County residents have had to travel to Beaumont or Port Arthur to receive medical care. Spears said he is thankful for the opportunity to have a place for his constituents to receive medical care.
"I think it's a wonderful accomplishment for our entire community," Spears said. "This is something that so many people have worked for, over the last seven to eight years, to finally have a place where people can receive treatment or care, in order to get them to maybe a bigger facility, depending on the situation they are going through.
"It is wonderful. We have first responders who are here that deal with people getting in wrecks, and things of that nature every day, and now to have someone that they can get them to within 5 or 10 minutes is way better than having to fight traffic or hopefully not get caught in a wreck on your way to Beaumont. So, it's a wonderful opportunity and we're thankful for it."
The campus' namesake, Gisela Houseman, donated the 20-acre plot of land for the campus located by the intersection of Interstate 10 and State Highway 62. Area medical physicians, lawmakers and executives involved in the endeavor thanked the donor for her generosity. Trevino said more CHRISTUS services could feature in Orange County's future due to the new facility being built.
"I think this is Phase 1 and, as this grows and develops, we'll be looking for other services to provide to the community," he said.