County projects in works top $16 billion
June 1, 2022
TheRecord - Dave Rogers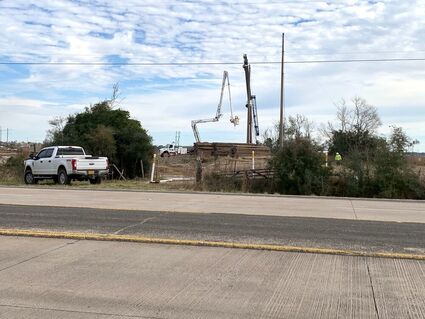 When a possible $6 billion Chevron-Phillips Chemical ethylene plant was first introduced to Orange County headlines in January of 2019, everyone agreed it was a big deal.
That single investment, it was noted by someone who knows, would be equal the rest of the county's industrial plant values all put together.
In the three-plus years since, Orange County's list of "possible" investments has tripled in value, to $16.5 billion with between 25,000 and 30,000 construction jobs and about 1,000 permanent jobs coming with them.
Talk about your economic development.
"We're running out of real estate," Jessica Hill, director of the Orange County Economic Development Corporation, said.
"If everything in the pipeline happens, we'll be turning people away."
The latest addition to the projected project list was unveiled last week at Vidor's school board meeting, a $30 million solar farm located at the intersection of Interstate 10 and FM 1135.
That project list includes two already under way, a $40 million expansion at Optimus Steel and the new $50 million Gisela Houseman Medical Campus.
Additionally, the U.S. Army Corps of Engineers is pushing forward with the $2.4 billion Orange County Coastal Storm Protection System, a 26-mile line of levees and seawalls scheduled to be complete in 2028.
Entergy is waiting on approval from the Public Utility Commission to build a $1.8 million combination natural gas and hydrogen power plant, scheduled to be online by 2026.
Last week Orange County approved a Reinvestment Zone for an 1,800-acre site on the east bank of the Neches River, where Enterprise Products is considering two investments that would total $6.2 billion.
Already, Orangefield school district has agreed to a Chapter 313 "limited on appraised value" agreement with Enterprise to encourage the company to locate on the property inside the OISD borders.
One of the Enterprise proposed projects is an ethylene plant that is described almost identically to C-P Chem's proposed ethylene plant, down to the fact each include an ethane cracker capable of producing 2,000 kilotons of ethylene per year.
Ethylene is used in all sorts of plastic products.
Of course, neither C-P Chem or Enterprise has gotten past the "possible" stage.
C-P Chem signed a Chapter 313 agreement with West Orange-Cove school district in 2019 and followed up by winning a 10-year, 100% county tax abatement.
The Woodlands-based oil-and-gas giant has been busy on its 1,700-acre site wedged between Chemical Row on FM 1006 and the county airport on Highway 87.
It has already spent an estimated $1 billion on clearing the property and building drainage ditches, retention ponds, pipelines and electrification it calls a "land improvement project."
But C-P Chem said through a spokesperson late last week there had been "no change" in the project status.
The last update – coming more than a year ago – said the final investment decision (FID) by C-P Chem and its partner on the project, Qatar Petroleum, was on hold as they monitored world economic developments.
Steve Wardle, executive director at C-P Chem, said in April 2021, "The land we've acquired continues to be the preferred site if we go ahead with this project.
"At this time, we're removing some of the trees. If and when we get to the FID, we don't have to do much before starting construction."
Before it decides to go ahead with its project, Enterprise Products is expected to seek a tax abatement from Orange County as well as the reduction of half its projected $1 billion in school tax due the Orangefield district over the next 25 years.
Dr. Jay Killgo, Vidor's superintendent, explained that under Chapter 313 of the Texas Tax Code, which is being eliminated this year, the state would continue to pay his district a set amount per attending student based on district tax receipts – but would not recapture full value for Core Solar's alternative energy Orange County plant.
The Austin-based company would, through 313, make payments to Vidor ISD's interest and sinking tax funds, allowing the district to pay back bond debt.
"This will allow us to relieve some of the burden from homeowners and pay the bond debt off early," Killgo said.
Of the seven projects mentioned above, three will be aided by Chapter 313 agreements, two by county abatements. The Entergy Power Plant is being privately funded and the construction of the Coastal Protection System is being funded by government.
The City of Orange EDC has spent about $1.5 million on Eagle Point Parkway, the access route for Houseman Medical Center.
Olson Engineering's $4 million expansion in Bridge City and M&D Hardware in Mauriceville are other projects assisted by county abatements.
Chick fil-A, Starbucks, Red's Plaza, Golden Chick and Spanky's parking expansion are all 16th Street projects made possible by the City of Orange EDC.
Other recent or current Orange EDC projects include Water Tree Orange, Real Southern Cooking, Orange Stationer, Team Elevate Office Project, Orange City Donut, Columbanus Motor Sports, Triangle Rescue Training, Free State Cellars Winery and Childs Ace Hardware.
The city's EDC has three projects in the Cove addition, Bayou Metals, Tarver Performance Marine and Piney Woods Sanitation.
Three housing additions helped by City EDC funds will add 473 single-family homes to the area – Little Cypress Grove Residential (190 homes), The Reserve at Mallard Lakes (242) and Cypresswood Village Phase 2 (41).
"There's a lot of work going on, a lot of interest in Orange County," OCEDC's Hill said. "We're trying to respond to all the prospects interested in putting money into our county."